Just as your body functions at its best on a healthy diet, so your eye health can be improved by what you eat.
Specific nutrients and vitamins for eyesight can boost your vision in a number of ways – from strengthening your retina, to guarding against dry eye syndrome to staving off sight-threatening conditions such as cataracts and macula degeneration. So to help you boost your visual health this summer, the Optical Studio team have pulled together their top three throw-it-together salad recipes for the perfect summer diet for eyes…
Grilled Salmon Salad (serves 2)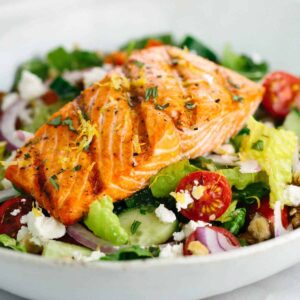 Eye Health Tips:
☑ Colourful fruits and vegetables contain vitamins for eye health including zeaxanthin, vitamin C, lutein and zinc, which boost your retinal health and help prevent vision-loss.
☑ Omega-3 fatty acids found in salmon and other oily fish stave off macular degeneration and dry eye syndrome.
☑ Almonds are packed with vitamin E to reduce the risk of sight-threatening conditions.
Ingredients:
2 x salmon fillets
1 x romaine lettuce or equivalent, roughly chopped
Handful of spinach leaves
Handful of frozen peas
1 x red pepper, diced
1 x orange, peeled and diced
Handful of almonds, roughly chopped
Dressing:
3 x tbs Greek yoghurt
1 x garlic clove, crushed
1 x tbs curry powder
Squeeze of orange juice
Method
Grill salmon fillets on baking tray for around 10-15 minutes until flesh flakes easily.  Meanwhile, whisk dressing ingredients together until you have a smooth consistency and toss with the rest of the salad ingredients in a large bowl.  When salmon is cooked, flake with the back of a fork and sprinkle into the bowl.  Season with salt and pepper and serve immediately.
Summer Greens Salad (serves 2)
Eye Health Tips:
☑ Leafy greens contain beta-carotene, Lutein and Zeaxanthin, these eye vitamins provide vital nutrients for eye health.
☑ Apples are rich in bioflavonoids and vitamin A which keep your retina in good health and prevents dry eye syndrome
☑ Seeds are a great vegetarian source of zinc – this reduces risk of night blindness and helps to prevents the onset of macular degeneration.
Ingredients:
1 x cucumber, peeled and finely chopped
2 x Granny Smith apples, diced
4 x handfuls of spinach leaves, roughly chopped
2 x handfuls of rocket, roughly chopped
1 x handful of fresh mint leaves, roughly chopped
1 x handful of frozen peas
Pumpkin seeds to garnish
Dressing:
4 tbs Greek yoghurt
2 tsp honey
Juice of half a lime
Method
Whisk together the dressing ingredients, season to taste, and set aside.  Rinse all your salad ingredients and prepare the cucumber, apple and leaves.  Toss all the ingredients with the dressing and sprinkle over pumpkin seeds to serve for the ultimate diet for eyes.
Beef and Romaine Salad (serves 2)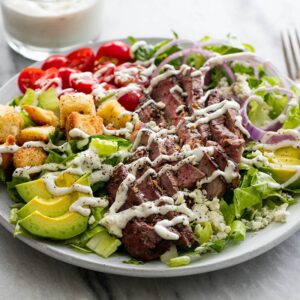 Eye Health Tips:
☑ Romaine lettuce contains vitamin K and A, whilst radicchio is packed with zeaxanthin – all essential nutrients for boosting your eye health, particularly your retina
☑ Parsley is rich in eye vitamins C, keratin and iron, making it a great herb for adding flavour and protecting against cataracts and macular degeneration.
☑ Beef is an excellent source of zinc – the perfect protein addition to a summery diet for eyes.
Ingredients:
2 x beef steaks
2 x handfuls of romaine lettuce, roughly chopped
2 x handfuls of radicchio, roughly chopped
1 x fennel bulb, thinly sliced
Handful of freshly chopped parsley
2 x tbs fresh thyme
2 x tbs fennel leaves
Dressing:
4 tbs olive oil
2 tbs apple cider vinegar
1 tbs lemon juice
1 tbs Dijon mustard
1 tbs maple syrup
Brush steak with olive oil and season generously with salt and pepper.  Fry on a high heat to desired pinkness (we'd recommend 3-5 minutes on each side to avoid over cooking) and set aside to rest.  Whisk up dressing ingredients and toss with the prepared salad in a large bowl and serve onto plates.  When steak has rested for 5 minutes, cut into thin slices and lay on top of each plate of salad.
Eat and Enjoy!
Remember diet can contribute towards your eye health but there's no substitute for a comprehensive eye test with a qualified optometrist.  Make sure you're up to date with your eye examinations and book in with us today by clicking here, or you can contact us here !